Hey everybody! How are ya? Been a while, eh?
This have been going pretty well, been busy – but I love being busy!
Workouts have been ok. Last week I ran 3.1 miles on Tuesday, 3 on Thursday, and skipped my long run. Bad.
My Garmin is still being dumb. I got a new battery, my dad took it apart and replaced it and it still won't work. I plug it in to charge and it says the charge is complete, but when I take it off and turn it on nothing happens. It won't turn on. I'm getting quite frustrated. This weekend I skipped my run because I didn't have a watch to track. The iPod app is crap. But really it was just an excuse. So instead, today I need to head to the gym and run on the treadmill, bore.
I went down to the Running Room yesterday to look at the Garmin 10, and the man that worked there was telling me about this other watch, the Soleus.
It looks and sounds like a pretty good watch, and its only $89. I looked it up online and it has mixed reviews, but for the most part it seems good for the cost. I don't love the display though. I am very indecisive about it. This watch, along with the Garmin 10, doesn't do speed work which is a draw back. Really I just want my old watch so I don't have to spend any money.
I was also thinking about just spending the money and getting one of the new Garmin's…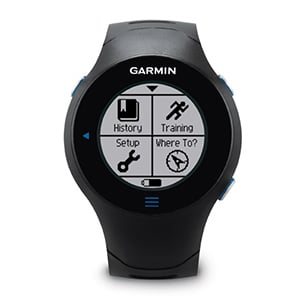 But honestly I'm not sure. My 405 was just over 2 years old, and I treated it really well. I don't want to spend $350 on a new one for it to just break.
So as you can see I'm torn. I don't know what to do. But I do know that I need a new watch ASAP! Because I really don't enjoy running on the treadmill, which makes me skip my training runs. Poor excuse.
Thoughts, rec's?